Rube Goldberg Photography
I just love this kind of stuff and when you throw in photography well… very cool!

Internal Server Error
The server encountered an internal error or misconfiguration and was unable to complete your request.
Please contact the server administrator, .(JavaScript must be enabled to view this email address) and inform them of the time the error occurred, and anything you might have done that may have caused the error.
More information about this error may be available in the server error log.
Additionally, a 404 Not Found error was encountered while trying to use an ErrorDocument to handle the request.
Permalink
Perseverance
This is a great quote from Ira Glass via ArtistMotherTeacher.com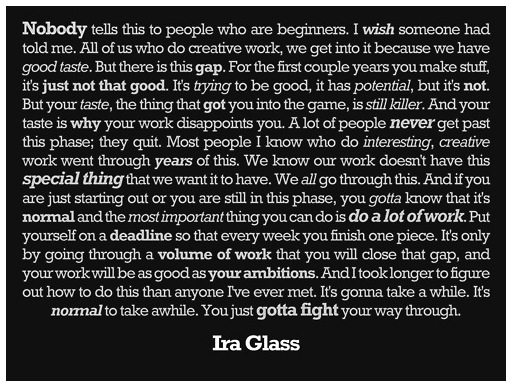 Permalink
Jamie Livingston Photo A Day For 18 Years
This is an amazing project that began in 1979 with a single Polaroid photo per day and continued until 1997 when he was on his deathbed. His friends organized an exhibit at Bard College to celebrate the 10th anniversary of this death in 2007. A wonderful online gallery of the project
Permalink
Next Page »»